Best Friends Quotes and Wishes for Sharing with your Friends
Friends are such an important part of our life. They mean a lot to us. A true and best friend stays in your life forever and by your side always. They support us in the good and bad times and help us so much. We get to spend so much time with our friends and learn a lot from them. It is hard in life when you do not have any friends. Friends make us feel special every day. They make us laugh, we can cry with them, if they are in problem or we are in problem, we can stand with one another all the way through.
A best friend is a person who means a lot. They are reliable, helpful, and supportive. If you have a friend or some friends like this, then you are a lucky person. If you are a friend to someone, then they are lucky to have you. If you want to make your best friend feel special then share these friendship quotes and friendship images with them,
They will be very happy to see these best friends and quotes and also feel happy about being your friend and very special also. Read the enlisted beautiful friendship messages which will make your heart melt and will also be liked by your friends and best friends.
Best friends quotes
Here are some of the best, best friends quotes which you can share with them or post for them and make them feel special. You can thank them for always being by your side and helping you so much.
You have been so kind to me, and stood by me through all these years. I don't think I will ever find words to thank you enough. Thanks friend!
I am lucky to have you in my life for now and for all the life to come. I wish from the core of my heart that you live a very happy life.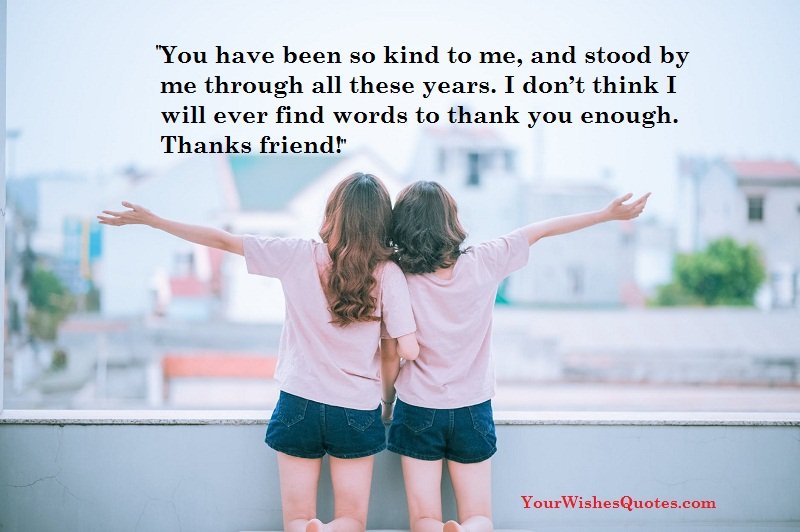 When everyone bullied me at school, it was you who protected me and helped me cope up with it. I admire you for everything you are and every thing that you have done for me. You are a gem.
You have taught me what aa friend is. You treat me well, and have always been nice. I really hope we can be friends for all our life.
A friend like you is very hard to find. Thus, I am never letting you go. No matter how many fights we have, you will always be my pillar of love and support. I love you bestie.
Friendship quotes
"Life becomes so much easier when you have the shoulders of friends to cry on and laughter around you to share your happiness. I am so happy to have you all in my life."
"You are like a star, I may not always see you but I know that you are always with me and you are always seen when the time in my life is dark."
"You are the only person in my life who does not judge me for being who I am and I think that is what a true friend is. I love you with all my heart."
We do not need to have daily conversations for proving our friendship. Our hearts are connected and I know that whenever I need you, I can turn for you and you will always be there like a true friend.
You know my true self, my real side, my ups and downs, highs and lows, good and bad, and all my imperfections and flaws. Even after all this, you decide to love me and be with me. This means a lot of me and I hope our friendship means the same to you.
Best Friendship quotes images
Here are some unique and fresh friendship quotes images which you can share with your friend and family members and they will love you for this. These are very cure and genuine. Your friends will feel very special if you post these for them. Send them to your friends on WhatsApp. or add it as a status or post in Facebook and Instagram. They will be touched by your gesture of true friendship.
The greatest gift which we can get in life is the gift of friendship. I think I have found it in you. Thank you for being in my life.
You are like a diamond, bright, beautiful, precious, and never gets old. Thank you for being the way you are. You are a great person inside out.
"Thanks for always caring for me when I was alone and could not ask for more. you have been my warmth of sunshine, may light, and my everything. You have been a blessing since we have met. I love you der nest friend."
"If there is a lifetime beyond this life, I would pray to god to bless me with a friend as you are in very lifetime beyond this one. There is nothing more I could ask for."
When I was alone, I was always terrified of something bad to happen. Since the day you have become my friend, darkness has become my enemy. You brighten up my days like no one else. Thank you, my angel friend, for being here with me in the toughest of times and supporting me like always.
Beautiful friendship messages
It is said that friends are not less than family. They are the family that we choose by choice and not by blood. They are true to themselves and to us and I think there is nothing better than having someone by your side to share and to care to love and to be with. Thus, we have listed down some of the best ad beautiful friendship messages which you share with your loved friends through SMS, WhatsApp, Hike, Telegram, and morel. They will love to see how much you care!
"I do not have a lot of friends. I only have a few friends. I believe that it is not about quantity of friends you have but it is about the quality of friends you have. You are the perfect best friend I could have ever asked for. You make me believe about the good that is in the world."
True friends will tell you when you are wrong, and guide you on what is right. They will not be always there to appreciate you, but when you are a in a problem, they will surely will be there to help you cope up with that.
I never knew a friend could mean so much to me until now. I appreciate that you are a gorgeous person inside and outside. You are kind and compassionate, you are lovely and caring. What better could I have asked for in a friend? You are love!
"I may not be always there to text you or talk to you. But I want you to know that there is not even a day when I do not think if you. You are a very special friend and also a very pleasing person. I love you and I hope despite of everything we have, we always stay friends with one another."
"Even after so many fights and misunderstandings, we find reason to love each other, and be each other's friends. I think that is what friendship is all about. It is not just amount having good times. It is having bad times as well but it is on us that we value which ones the most."
Top friendship quotes
"When I thought I could not smile more, you came into my life and made me laugh so hard I forgot about everything that was hurting before."
"A life partner is not meant to be your soulmate always. You can find your soulmate in a friend too. I think I have found one in you."
My happiness made you smile, and my problems made you worry. May sadness made you cry, and my achievements made you proud. I don't think there is anything you have not done for me which a family member would do. you are more than just a friend. You are my chosen family.
I know you love me. But today I also want to tell you that I love you too. I love you because you chose to love me when I was not very loveable, when I was not the right person to be with. You made me one. I owe you my lifetime, and you owe me a lifetime of friendship.
No matter how much we fight with one another, we will always stay by one another for our entire lives because that is how it was supposed to be. We were meant to be friends forever.
You can use these  friendship quotes to share from yourwishesquotes.com across with your friends.